Ignite Adaptive Announces a New Appointment to its Board of Directors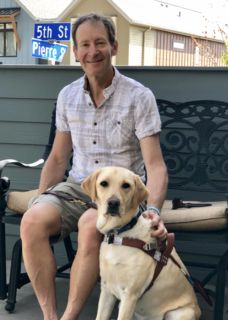 BOULDER, CO – July 31, 2020 – Ignite Adaptive Sports is excited to announce that Michael Stone will be joining the Board of Directors. With Michael's experiences both personally and professionally, Ignite looks forward to gaining a valuable relationship with someone who truly makes a difference in the lives of the disabled community.
Ignite believes everyone should be able to enjoy winter sports, regardless of skill or ability level. The organization provides the best possible winter sport experience to each student it serves. Offerings include alpine and cross-country skiing, snowboarding, ski biking, and snowshoeing opportunities. Full and half-day snowsports lessons run from January through March and are held Thursdays through Sundays. Ignite's students range in age from five to 90 and have varying disabilities, including autism, cerebral palsy, missing limbs, paralysis, visual impairments, and post-traumatic stress disorder, with many experiencing more than one type of disability. Ignite's all-volunteer instructor team donated more than 16,760 hours in the 2019-2020 season.
Tom Kissinger, Ignite Adaptive Sports' Board Chair says, "I have known Michael though many avenues over the years. As a triathlete, as a mentor for my visually impaired daughter, as a Ignite student, and as a successful entrepreneur – we are thrilled to have Michael join our board."
Michael Stone shares, "I grew up skiing and loved it. My family trips to Colorado are among my greatest experiences and memories. As my sight loss increased, I found the winter months increasingly challenging and isolating. Many years ago, skiing was the first thing I gave up as I found myself more and more frightened having experienced unexplained crashes. In 2009, a friend introduced me to Guided Skate Skiing at Eldora and I found it illuminating. Three years back I decided it was time to tackle my fear of Downhill Skiing and took a Snowboard lesson from Ignite. It was one of the most magical days of my life. All I could think of was all the people with disabilities frightened of leaving their homes during the winter and I wanted to do all that I could to ensure a level of independence and freedom during these dark cold months. Ignite does just this! They did it for me. Now it is my turn to take on this privilege for others."
About Ignite:
Ignite Adaptive Sports is a 501(c)3, nonprofit, located at beautiful Eldora Mountain, just 21 miles from Boulder, CO. Our mission is to ignite personal growth, independence, and confidence in people with disabilities on the Front Range and in surrounding mountain communities, by providing caring, safe, and fun adaptive winter snowsport opportunities.
About Michael:
Michael is functionally blind, having progressively lost his sight from a degenerative retinal condition known as Retinitis Pigmentosa. Michael navigates his way through the streets of Boulder with his four-legged guide, Geo. Finding independence through the use of aids, such as a guide dog, Michael has made it his mission to help others gain independence and maintain active lifestyles despite physical limitations.