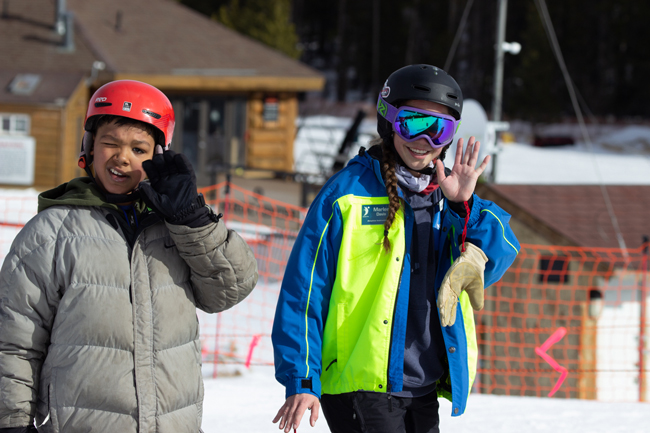 Financial Aid
Ignite Adaptive Sports does not turn anyone away based on their ability to pay for our services. Scholarships are available to individuals who meet the income requirements set by the scholarship committee.  For individuals, a Scholarship Cover Letter and Application are available once you log in to your profile.
Please contact the Scholarship Committee for more information.
Athlete Fees
Lessons run from January through March. Regular athlete lessons are every Wednesday, Thursday, Friday, Saturday and Sunday.
See Athlete Registration Forms or Group Registration Forms for specific dates and times.
Athlete Lesson Fees
Scholarships
If you are in need of financial assistance to participate in Ignite snowsport activities you may apply for a scholarship.
Scholarship Registration is available when lesson registration is activated.
Disabled Veterans Grant
Regular lesson fees are shown in the table below.
All prices given are for a half-day lesson. A full-day lesson is simply 2 times the half day rate.
Every athlete is also required to pay an annual registration fee of $40.00.
Lesson
Half Day
2 Track
$85.00
3 Track
$85.00
4 Track
$85.00
Bi-Ski
$85.00
Mono-Ski
$85.00
Snowboard
$85.00
Nordic
Classic
$45.00
Skate
$45.00
Snowshoe
$45.00
Discover Ignite
Never tried lessons with Ignite? Pay $ 75.00 for a half day lesson. This also includes your $40.00 registration fee.
To use this option you must contact the Ignite Scheduler via email at scheduler@igniteadaptivesports.org call them at 720-310-0328.
Lesson Times: Half-day lessons every Wednesday, Thursday, Friday, Saturday and Sunday January through March. The morning session starts at 10AM and ends at 12PM. The afternoon lessons start at 1PM and end at 3PM. Please show up 30 minutes early for each session so you can sign in and get ready to go out on the snow. (Other times may be arranged by contacting the scheduler@igniteadaptivesports.org)
Lesson Confirmations: No lesson confirmations will be made until the last week of December.
Cancellation policy: If less than 24 hours' notice is provided it will constitute a No show and the athlete may be charged the full fee of
$85.00 for the lesson. After two No Shows the remainder of the season lessons may be cancelled.
For lesson cancellations call 720-310-0328 or email scheduler@igniteadaptivesports.org–these are the only numbers or modality that will be used for lesson cancellation.
Also, a $10 change fee may be charged for excessive changes in the athlete's schedule.
Lessons include: Lift ticket/trail pass, equipment (if needed) and trained instructor.
This lesson package is for Ignite athletes only. Friends and family members need to purchase lift tickets, reserve parking (if driving separately), trail passes, rental equipment and ski school lessons from Eldora. Group supervisors not working on the hill or cross country trails with the group will be required to purchase a lift ticket/trail pass.
Payment: Individuals must pay when they sign up for a lesson. Groups prepay according to group contract.
Paperwork: All information forms must be complete and returned before a confirmation can be made.
Athlete Registration Forms
Group Registration Forms
Disabled Veteran's Registration Forms
Scholarships: Individuals may be eligible for Scholarships for Ignite Snowsport instruction. Scholarship registration when lesson registration is activated.
More Questions: Email scheduler@igniteadaptivesports.org
Join our Snowsports Community
Sign up today for inspiring stories from the slopes and opportunities to get involved with our life-changing adaptive snowsports programs!