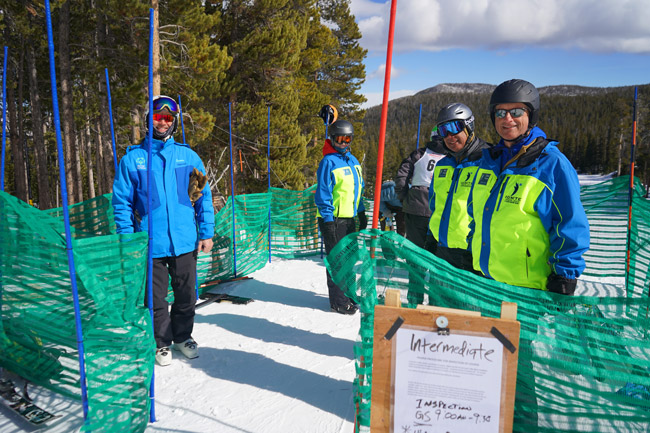 2019 Volunteer Orientation Sessions have wrapped up. To join us in 2020-2021, please sign up for our email list. 
---
At Ignite, we believe in the power of volunteers to transform the world we live in. Established in 1975, Ignite Adaptive Sports is a volunteer-driven organization motivated by the hearts and dedication of our 250+ volunteers, including our junior instructors.
To become a volunteer for Ignite Adaptive Sports, volunteers will undergo training that is specifically oriented to providing a safe, fun, and educational experience for persons with disabilities. On-going training throughout the season is offered to maximize the instructor's personal skiing/riding, teaching ability and technical knowledge. We can even help you pursue your PSIA Level I Ski Instructor Certification.
Sign up to learn more about volunteering with Ignite!
View the Volunteer Orientation Presentation.
---
Here are the steps to becoming a Volunteer Instructor with Ignite Adaptive Sports:
You must attend one orientation session. The sessions for the 2019/2020 season were Oct 16th, Oct 19th, and October 22nd. If you missed these sessions, please know we hold them every fall. You can sign up to our emailing list and receive scheduling updates as they become available. You will be notified as soon as we schedule our orientation sessions for the 2020/2021 season.
You must complete one "new volunteer" training session on either November 9th or 17th at Eldora.
There are two full-day on-snow clinics in December, the dates will be posted as soon as they're scheduled.
As a new volunteer, you are expected to commit to a minimum of five or more full teaching days during the Ignite season, which runs January 2020 through March 2020. If you commit to more than 12 days, you receive an Eldora Season Pass!
For more information regarding the Ignite Volunteer Program, please contact our Volunteer Coordinator, Jen DeLaurent via phone (303) 908-1551 or email at admin@igniteadaptivesports.org
We hope to see you on the snow!
Junior Instructor Program
Are you between 16-18 years old and love skiing or snowboarding? Join our Junior Instructor Program. Being a Junior Instructor at Ignite Adaptive Sports is a great way to fulfill your National Honor Society (NHS) volunteer hours! We can even help you pursue your PSIA Level I Ski Instructor Certification.
To become a Junior Volunteer Instructor, you must complete all the above listed items for Ignite Volunteers, as well as the 2019/2020 Junior Instructor Training on Sunday, November 3rd. If you missed this training, please be sure to sign up for our mailing list so you'll be automatically notified of the trainings as they're scheduled.
Click to view our Junior Volunteer Orientation Slideshow.
For more information about the Junior Volunteer Instructor Program, contact Annette Kissinger at (303) 378-6685 or email annette_k@pipeline.com
Join Ignite's dedicated team of Volunteer Instructors
Sign up for Updates!
Sign up today and receive email updates from Ignite