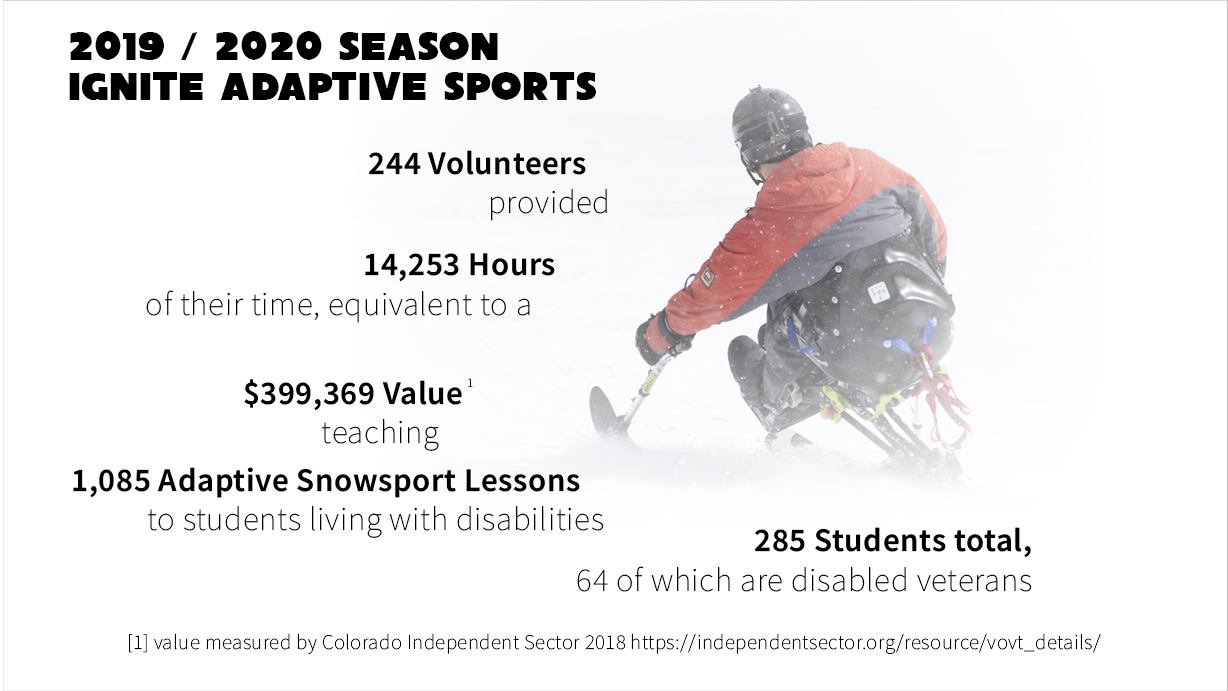 Our Mission
Our mission is to ignite personal growth, independence, and confidence in people with disabilities on the Front Range, and in surrounding mountain and Northern Colorado communities, by providing caring, safe, and fun adaptive winter snowsports opportunities.
Our History
In the 1970's, ten passionate University of Colorado students saw an opportunity to enhance the lives of other CU students with disabilities, by providing them access to Colorado's great winter sport of skiing. In 1975, this dedicated group gained permission from Eldora Mountain Resort to create an Alpine Adaptive Skiing program for ten athletes with disabilities. Since then, Ignite Adaptive Sports (formerly Eldora Special Recreation Program ESRP) has grown into a volunteer team of over 230 people serving over 300 athletes each year.
Today, outdoor sports enthusiasts of all ages and disabilities are welcome to take part in our nationally recognized program. Our dedicated team donates between 15,000 – 20,000 hours (worth more than $350,000 according to The Independent Sector) of their time and energy each year to provide private snow sport lessons to hundreds of people living with disabilities in Colorado. This includes wounded active duty and military veterans served through a US Paralympic Military Program Ignite developed in 2009, in collaboration with the U.S. Olympic Committee.
While other adaptive winter sport programs exist in Colorado, Ignite is the only comprehensive program located along the Front Range and the only program accessible by RTD's public transportation system.
Our Work
All of us at Ignite believe everyone should be able to enjoy winter sports regardless of skill or ability level. We provide the best possible winter sports experience to each athlete we serve.
Our current offerings include alpine and cross-country skiing, snowboarding, ski biking, and snowshoeing opportunities. Full and half-day snow-sport lessons run from January through March and are held Thursdays through Sundays.
Our Athletes
Outdoor sports enthusiasts of all ages and ability level are welcome to take part in Ignite's nationally recognized program. Ignite's athletes range in age from 5 to almost 90 and have varying disabilities, including autism, cerebral palsy, missing limbs, paralysis, visual impairments, and post-traumatic stress disorder, with many experiencing more than one type of disability.
Our Volunteers
Volunteers are the key to Ignite Adaptive Sports' success. They provide 100 percent of our lessons and support all other aspects of the organization – from program management to fundraising – contributing over 15,000 hours of their time, talent and energy, providing over 1,300 individual lessons to more than 200 people living with disabilities. Many Ignite volunteers have family members or friends who participate in the program and return to Ignite year after year.
Join our Snowsports Community
Sign up today for inspiring stories from the slopes and opportunities to get involved with our life-changing adaptive snowsports programs!