Athlete Feature – Erik Tasto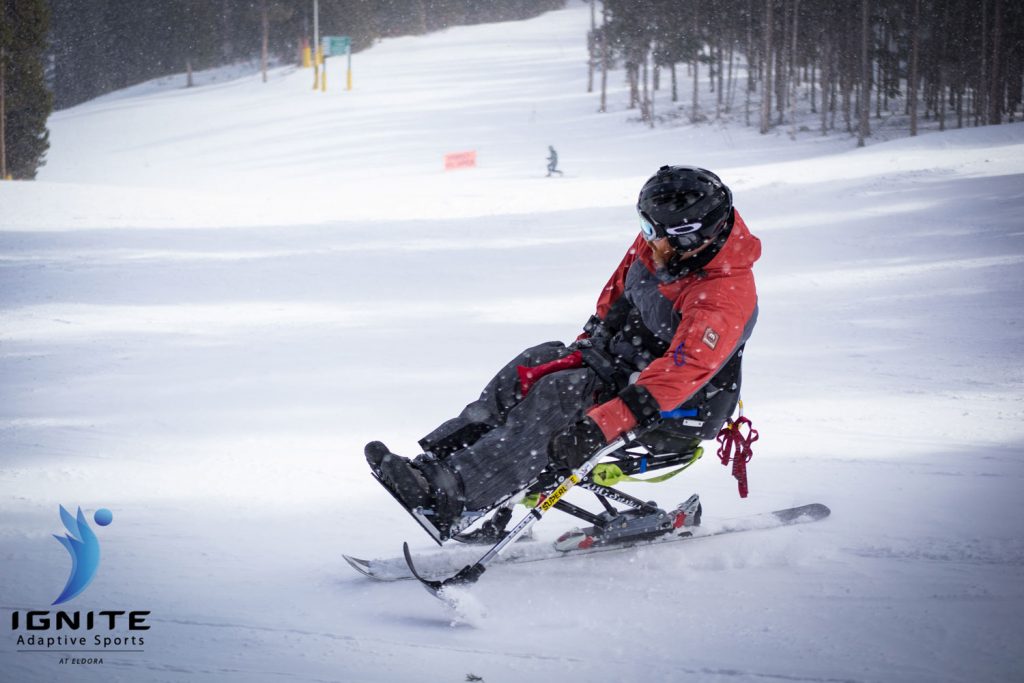 "The last day I did the bi-ski was a powder day, and it was an actual powder day, it felt like a powder day, and I got to enjoy it like it was a powder day. It turned me all the way around because yes, I'm sitting down, but I still get to enjoy the snow when it's good like that. It was one of those days when it snowed the whole time. It was fantastic," says Ignite Athlete and Army Veteran Erik Tasto. Erik joined Ignite through our partnership with Veterans Affairs (VA) as a group of Vets prepared to compete in the annual Winter Sports Clinic in Snowmass, April 2019.
While in the military, Erik was stationed in Germany. After a long winter, he decided to take out his motorcycle for the first ride of the season. Erik was subsequently struck, head-on, by a driver attempting to pass. After being airlifted to the nearest hospital, he received a fusion from T5 to T10 in his spine, essentially the top of his chest to the bottom of his chest. Being paralyzed from the chest below changed everything. "In the beginning there was a lot of 'I'm never going to get to ski again, I'm never going to get to board again, or I'm never going to get to fill in the blank,'" Erik shares, "but now, I'm doing these things again. They're different, but it's also the same."
Erik finds the camaraderie and expertise at Ignite are unique. Thanks to Ignite's partnership with the VA, Erik had the great fortune of ending up in the experienced hands of John Humbrecht, Ignite's Snowsports Director. Instantly, Erik's experience and views of mono-skiing changed. "I don't feel my hips or anything below my chest, so my biggest challenge is trying to get my hips to do what I want them to do while I'm skiing. All the while not being able to feel it. It's very frustrating. Having John around really helps, because he can figure out how to get me out of those frustrations."
Ignite's Veterans Program is unique. All of our Veterans enjoy these snowsports completely free of cost. Thanks to the VA and all our supporters, we will continue this program into the future. All our Veterans will be able to truly enjoy powder days, as they so deservingly should.