Ignite Volunteers – COVID Updates
When you spend time with a group of people so willing to give themselves fully to their passions, and you confront them with a global pandemic and a little extra time, you get some pretty unbelievable results. The Ignite Volunteers gave new meaning to the term "off-season". They seamlessly adapt their ways to provide the world with good through even the most trying of times. Art, craftsmanship, coordination, you name it. The Ignite Volunteers continue to go above and beyond for their communities. Let's take a look at what everyone has been up to! Below are several stories about how our team is helping during the time of COVID-19.
The New Ignite Equipment Team
by Stacey Lunn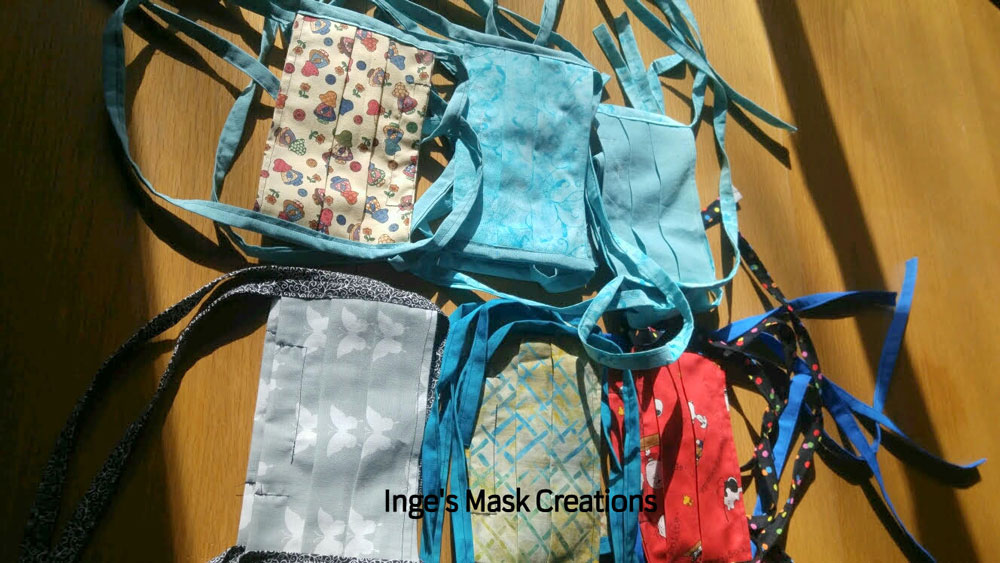 First of all I would like to say I hope this finds everyone happy, safe and healthy! I am proud to introduce our two newest members of the Equipment Team: Inge Fasshauer and Mary Weis-Fout. Along with my self, Stacey Lunn. The three of us are members of a "New" Equipment Certification: The Sewing Room! We have all been making masks for friends and family members in each of our own home studios.
I selected fabrics by going for the heaviest cotton and highest thread count, I even had a heavy cotton print that looks like a bandanna! Two layers of fabric and fusible interfacing between those are key components for blocking even more stuff! Of course, we needed a wire nose piece for the style I chose. John and I really got adaptive while making these masks. Luckily, I had some elastic on hand.
Inge and Mary were very productive! I only made four for John and I, so we always have a clean set (we do not have any family in the state, except the Ignite family!). Mary totaled 45 masks and Inge came in with a whopping 120 and both still counting! They are both making them for family friends and front line workers! Nice work ladies!
Stacey Lunn
Ignite Equipment Manager
---
Sculpture to Thank Frontline Workers
Ignite Volunteer Mitch Levin chose to support his community through his incredible sculpture art. Mitch created this 30-inch by 24-inch mask sculpture to honor the frontline workers during the pandemic. Levin said he hopes his art will help "recognize anyone who is still working in what would be considered an essential job." Read more about this incredible piece of art here.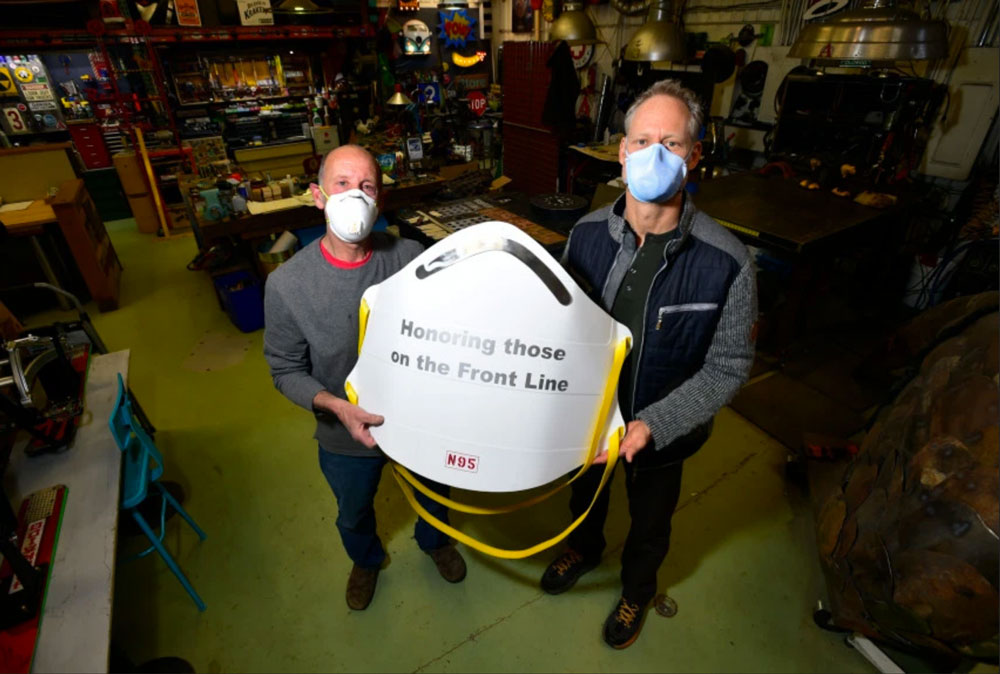 ---
Goggles for Docs
Ignite Volunteer, Julie Naster is coordinating the collection of Goggles for Doctors in our region and she says you can also donate goggles at various bins through Christy Sports if you would like to help. Thank you Julie!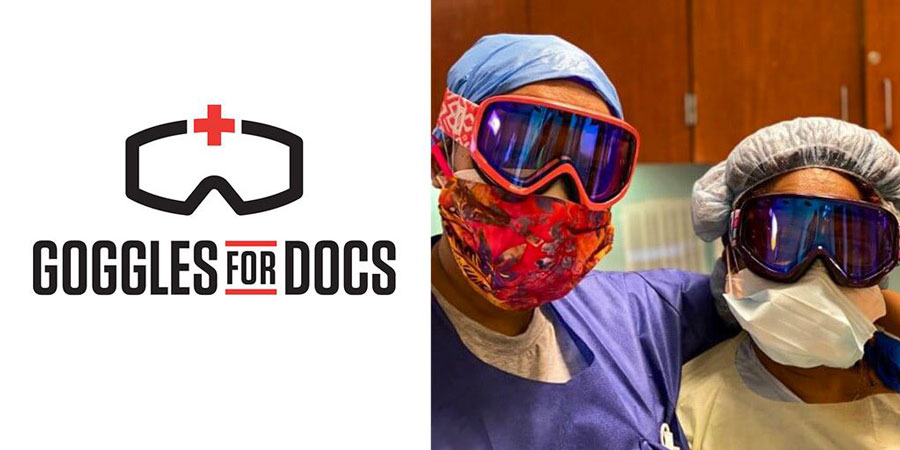 ---
Colorado Mask Project
Ignite Volunteer Michelle Willix just signed up to volunteer her sewing skills to Colorado Mask Project. With her first order of 100 masks, she will be a busy woman in the coming weeks. Thank you Michelle for helping save lives!

Grocery Delivery for Seniors through Cultivate
After finishing off his first season with Ignite, David Weinstein has been spending his days volunteering with Cultivate, shopping for seniors during the COVID-19 crisis. The service is called "Carry-out Caravan" and is a priceless role during this time of need.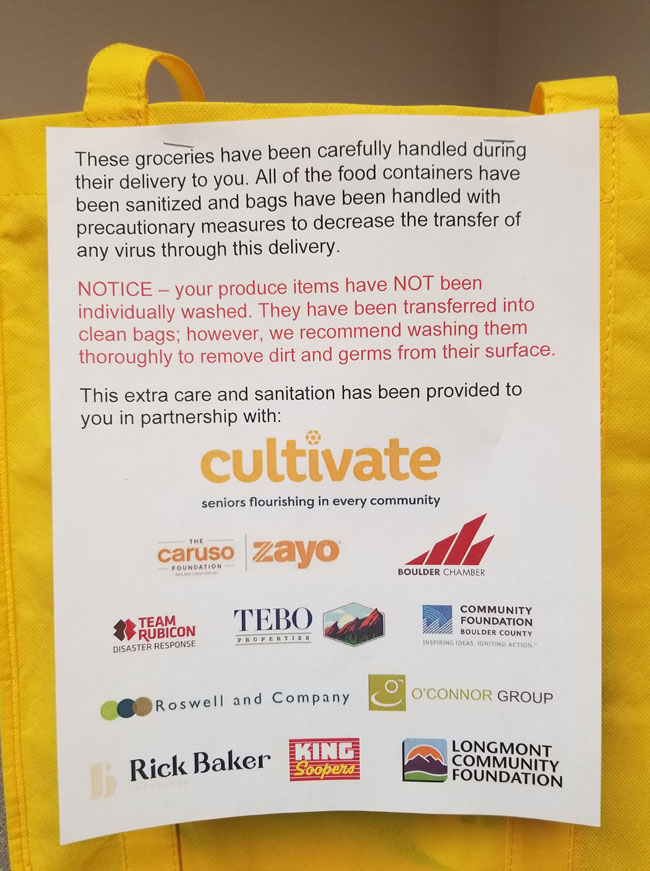 ---
What have YOU been up to? Please email Kelly and let her know what you have been doing to help your community through the COVID-19 Pandemic and she'll feature you on this Ignite Volunteer Blog!