Return to Play Plan Ignite Adaptive Sports

At Ignite Adaptive Sports, we believe that snowsports and active lifestyles are integral to helping everyone with disabilities reach their full potential. Unfortunately, in March of 2020, COVID-19 caused us to stop providing snowsports for our students. In the months since we closed, your staff has been working diligently to develop a plan that will allow Ignite to re-open for the 2020-2021 season. (Providing the ski areas can open).
According to the Center for Disease Control, "Disability alone may not be related to higher risk for getting COVID-19 or having severe illness. Most people with disabilities are not inherently at higher risk for becoming infected with or having severe illness from COVID-19. However, some people with disabilities might be at a higher risk of infection or severe illness because of their underlying medical conditions. Adults with disabilities are three times more likely than adults without disabilities to have heart disease, stroke, diabetes, or cancer than adults without disabilities." 
Your staff has worked all summer to create a plan for our upcoming season and to help mitigate the effects of the Novel Coronavirus and COVID-19 on our staff, students, and volunteers. With the knowledge that the Novel Coronavirus and COVID-19 are ever changing, it is important for each individual to make their own informed choices about being active with Ignite Adaptive Sports for the 2020/2021 season.
Below is the highlight of that plan. On behalf of our volunteers and staff, we are looking forward to a modified and adaptive season.
Sincerely,
Carol Nickell
Executive Director
---
Return To Play Plan
Projected Opening Date: January 20th, 2021
Due to physical distancing policies, Ignite Adaptive Sports will operate at a reduced capacity this season (this is subject to change based on Government policy and increasing cases). This will limit the number of people in the Ignite facilities. We must prepare as if each day is a bad weather day, so we are unable to be flexible on the number of people in our facilities on any given day.
There will be no full-day lessons this season.
Students must be registered at least seven days in advance.
When possible, we are asking students to be dressed and ready to go when arriving for a lesson.
Volunteers will use their car for storage and to get ready to teach a lesson.
We are asking all volunteers to set their full season schedule by November 15, 2020.
Daily assessment of all staff, students, volunteers, or anyone scheduled to go to WHQ—the online COVID-19 assessment must be completed 24 hours in advance of coming to Ignite.
No appointment or reservation means no entrance and NO exceptions.
All staff and volunteers must watch an online video training on COVID-19.
All students and caregivers must watch a video/training on COVID-19 and Ignite procedures, before attending a lesson.
All staff, volunteers, students, or caretakers must stay home if they have any signs of illness, of any kind.
Anyone who has tested positive for COVID-19 or show any symptoms of COVID-19 must stay home. They also must report any positive test to the health department and to Ignite's COVID-19 manager, Mary Weis-Fout.
Anyone who has been in close contact (as defined by CDC, less than six feet for 15 minutes) with someone who has COVID-19, must stay home.
No lunch or food will be allowed in the Ignite Facilities.
Ignite will not operate the kitchen area at all this season:

No water
No refrigerator
No microwave
No coffee, tea, or other drinks
Staff, volunteers, and students are encouraged to bring their own water/drinks/meals and keep them in their vehicles.

No personal storage of any kind at WHQ; all staff, students and volunteers are to change in their cars—and all personal storage (clothes, meals etc.) are to be kept in vehicles.
Hand washing with soap and water for a minimum of 20 seconds.

If soap and water are not readily available, ensure hand sanitizer is used

No spitting.
Everyone must cover their cough and sneeze with a tissue or use the inside of the elbow.

Used tissues are to be thrown in the trash and hands must be washed or sanitized immediately.
Cloth Face Coverings
All persons that come into WHQ must have a face covering (no bandanas or buffs allowed). Face coverings are not intended to protect the wearer, but rather to reduce the risk of spreading COVID-19 from the person wearing the mask (who may not have any symptoms of disease). There are no exceptions to wearing face coverings.
Due to physical distancing measures, Caregivers –
Are not allowed in the facility, unless absolutely necessary to aid in transfers or student control.

Those allowed in must complete a COVID-19 screening and leave when the student leaves for their lesson.
Must be available to contact in an emergency and when a student returns from their lesson.
This is a summary of the operations manual that staff developed over the course of the summer/autumn.
Since this is a fluid situation – Please keep informed about Boulder County COVID-19 restrictions and stay connected to Ignite for any updates on policies or procedures.
December 2020 CDC Updates:
Brief update on the number of cases of COVID-19: Currently, we have over 64 million cases worldwide (up from 15.5 million in July). There have been 1.5 million deaths (up from 650,000 in July). In the USA, we now have 13.9 million cases with 273,000 deaths. In Colorado we have 241,000 cases with 3,193 deaths. It is estimated one in 41 people in Colorado have COVID-19 at this time.
We have updated guidelines on quarantining (staying home) after exposure to COVID-19. The CDC has reduced the quarantine time from 14 days to 10 days. This is provided the exposed person has no symptoms during the 10 days. The quarantine can be reduced further to 7 days, but only if a person is tested on day 7 and waits for test results (2-3 days), which is equal to the 10 days (and has negative test results).
It is strongly recommended that we wear goggles while teaching at Ignite (vs glasses and/or shields). Research has shown that goggles must be appropriately fitted and indirectly vented goggles are best (to avoid potential penetration of splashes or sprays with directly vented goggles). Safety Glasses (i.e. sunglasses) do not provide the same level of splash or droplet protection as goggles. The face shield, as an alternative to goggles, should have crown and chin protection, and wrap around the face to the ear. We will require masks AND face shields when that option is chosen.
We hope to see you on the mountain this season (reservations of course),
~ The Ignite Team

COVID Resources
Boulder County COVID-19 Guidelines
Boulder County COVID-19 Testing Sites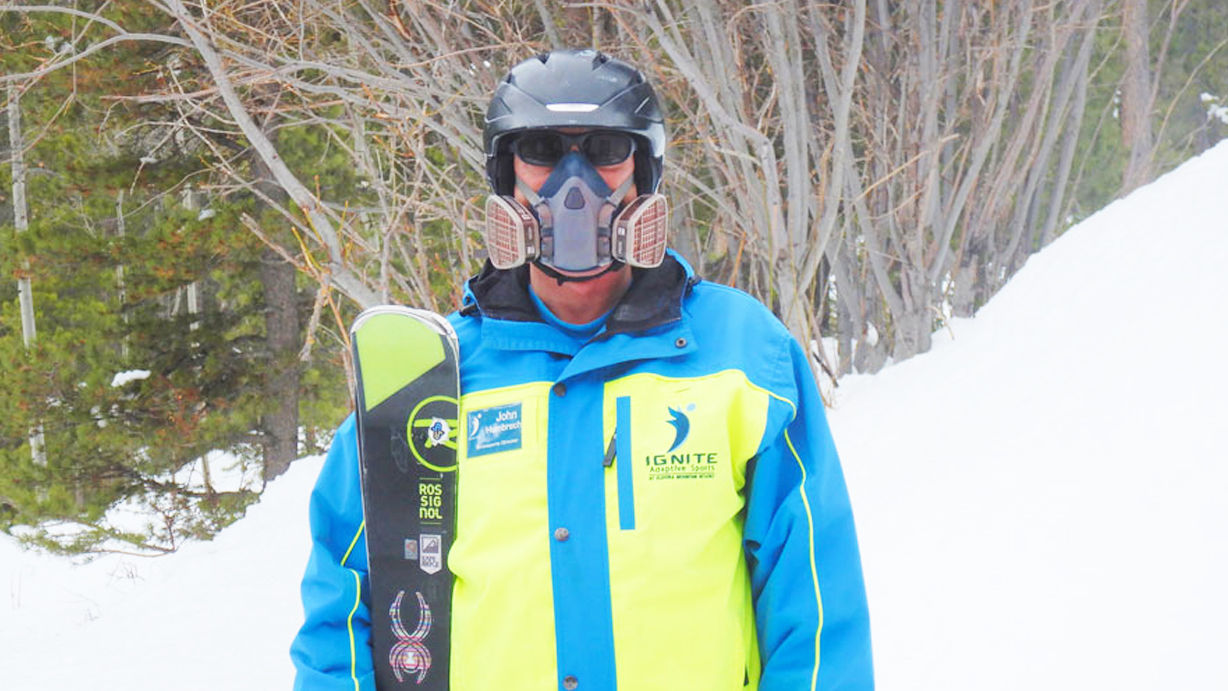 Sign up for Updates!
Sign up today and receive email updates from Ignite